Meet LeeAnn Whites: Director of Research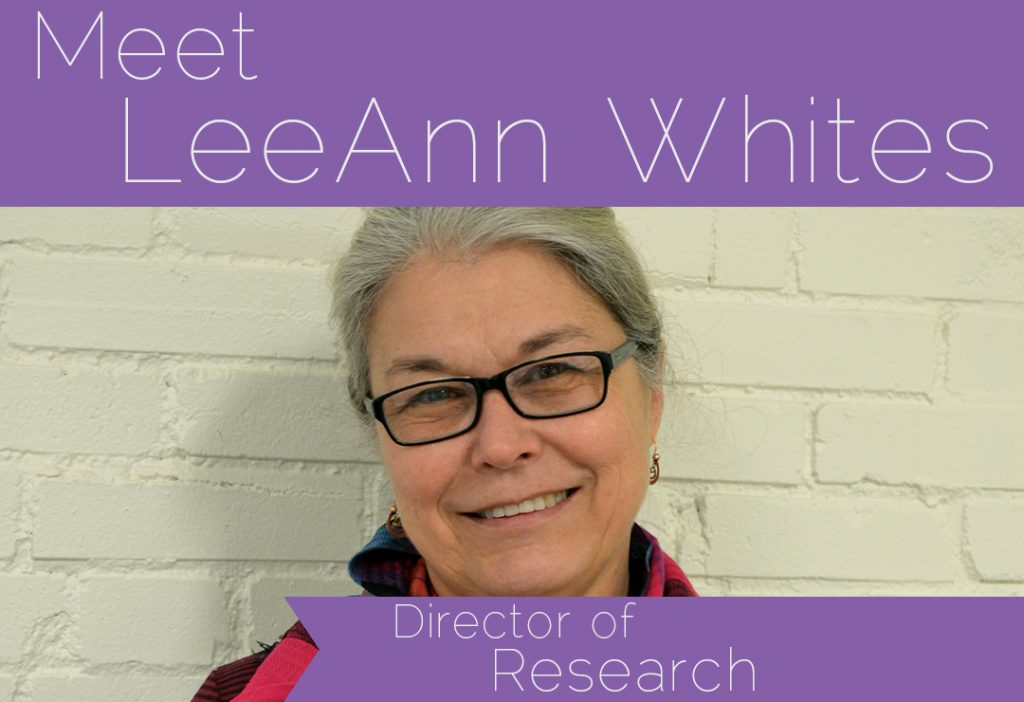 LeeAnn Whites came to The Filson in 2014 as the Director of Research. She is in charge of the Fellowship and Internship program and serves as the editor of Ohio Valley History. We sat down with LeeAnn to find out a little bit more about her.
Pathway to The Filson
I briefly got a job at Virginia Tech but I spent most my career at the University of Missouri, Columbia. I was hired into the US Civil War Reconstruction position, but I wasn't trained as a Civil War historian at all. I was trained as a US Women's historian. It was the only place in the country that had two jobs open where both my husband and I could teach. This was before they would do spousal accommodation. At that point, we had a three-year-old and my husband came in and said "Look honey! Here's a place with two jobs, one in British History for me and one in Civil War History for you!" They hired both of us and I had to figure out how to teach Civil War history. So, I became a Civil War historian.
People don't think about universities this way, but I think of them as a one-room schoolhouse. If you think about this, you have freshman, undergraduates, Master's, and Ph.D students all in one school, so it's basically 13 years of schooling and I taught it all.
I was sitting in my office in Missouri and I thought to myself, "I don't want to do this Introduction to U.S. History class anymore." I wrote Glenn Crothers (former Director of Research at The Filson) an email and said, "These are the things I like to do. I don't suppose you have a job at The Filson?" And he wrote back, "Well it just so happens…" So, I ended up getting the Director of Research position. I had never even been to The Filson.
I love being the editor of the Ohio Valley History journal. The other aspect of my job is running the fellowship program. It's so great because you get to see what types of research other people are doing, read their applications, and then they come here to do research. I get to talk to them about their work, but I don't have to be responsible for them getting a job. It's all the fun parts of being an academic advisor.
I like working at The Filson because there are so many wonderful, engaging, supportive, and talented people who work here.
I love Louisville. I love bridges, I love old houses, I love Old Louisville, I love being able to walk to work and going in different directions. You get to live with all these beautiful big mansions but you don't have to keep them up.
I like to do hand work. I used to do a lot of needlepoint and all my friends and family have been subjected to getting what I have made. Right now, I'm making a baby blanket because I just learned how to knit. I like to garden. I like to travel. I like "doing" traveling vacations, such as bike tours.
I did a bike tour in Italy last year. I walked the Camino de Santiago through Spain. It was only a generation ago that people got the idea that they would reclaim these old pilgrimage roads. It was a tradition that has fallen by the wayside, and people decided that they would go and remark these roads. It's fascinating, because the people you meet are fascinating. There are hostels along Caminos and you meet all these people. Approximately 10% of them speak English. The children in the towns are particularly helpful because they see the people as pilgrims and are taught that they s
---
This interview is part of an ongoing staff profile series in The Filson newsmagazine and was originally published in our Summer 2017 issue.