March is Women's History Month, and we have women's history at The Filson!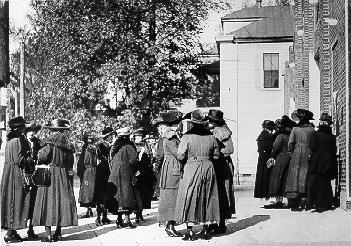 During summer 2011, several of my colleagues and I delivered a two-part lecture entitled "'Her'story: Encountering Women in The Filson's Special Collections."  Robin Wallace, Sarah-Jane Poindexter, Lydelle Abbott, and I presented a theme-based overview of women found within our department's collections.  While we talked about different themes and different women, I believe our audience also gleaned some over-arching messages from the sessions, including the difficulty in finding the voices of early women, minority women, underprivileged women, as well as the vital role women played in the development of our country, region, state, as they challenged the status quo with their professional aspirations, their art, and their activism.  We had an incredibly difficult time choosing what stories, which women, we wanted to share; our initial lists had to be pared down significantly. As we delved deeper into their lives, each woman seemed to clamor for more time to allow her story to be told.
A number of these women have subsequently been featured on the Filson's blog:
Mary "Polly" Shreve and the American Revolution
Mary Barr Clay, the Louisville Equal Rights Association, and Women's Rights
Frances Ingram and Neighborhood House
Louise Marshall and the Cabbage Patch
Ethel DuPont and Labor Activism
Along with these specific 'Her'Story pieces, other women's stories have been shared via our blog, including:
Bourbon Women, especially Milly Stone, Distiller
Enid Yandell, Sculptor
Patty Smith Hill, Education Specialist
Clara Gibson, Nurse
Elizabeth Hansbrough, Nurse
Mona Bismarck, Fashion Icon
More collections of women's materials are being cataloged every day in Special Collections.  In the past two months, University of Louisville intern Alex Covington has cataloged the Anne Cummings Fremd Equal Rights Amendment Scrapbooks, the Olga Alma Tafel Papers, which document Tafel's work with several peace organizations in the early-to-mid-twentieth century, and the Susanne Speed Morton Flood Memoir of 1937, among other collections.  Assistant Curator of Special Collections Eric Willey recently cataloged the Margaret Smith Papers, which document the social activities and professional life of an African-American woman from the 1920s to her death in 1986. Smith worked as a housekeeper for the Heyburn family of Louisville, KY for sixty years. The Smith Papers contain personal correspondence, much of it from Henry Heyburn to Smith, diaries documenting Smith's personal and work life for the years 1925 and 1947-1971, news clippings, a scrapbook, and miscellanea which largely concern the Heyburn family, sports, and Zion Baptist Church.
To view any of these collections, or for more information on, please visit us or email us at research@filsonhistorical.org.