Images Celebrating Independence
The Filson wishes you a Happy Independence Day!
S.A.R. Congress, Louisville, 1911. Gen. Simon Bolivar Buckner and Mr. Geo. L. Danforth Pres. Ky. Society, posing with a reproduction of the McHenry Flag in front of the Louisville Free Public Library.
A July 4th Picnic at Richlawn Stock Farm, 1905, Ralph Barker Collection
Sons of the American Revolution Fountain at Fort on Shore, Rowan and 12th Streets, Louisville, KY, July 12, 1912, Thruston Collection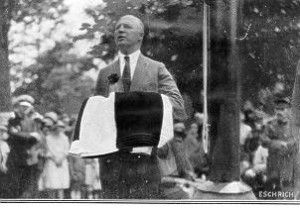 Federal Hill, Bardstown, Ky. (Nelson County, Ky.) "My Old Kentucky Home" was built as a summer home in 1795, by John Rowan, Sr., a young lawyer of Louisville, Ky. Governor Edwin P. Morrow accepting the flag at flag pole dedication at My Old Kentucky Home (Federal Hill) July 4, 1923.
A picnic, July 4th, 1902, Vista del Rio, St. Augustine, FL, home of Kentuckian Major William Aikin, William Aikin Collection
Monument on the Battleground at Lexington, Massachusetts, May 19, 1912, Thruston Collection