Filson Favorites — Humorous Subject Headings
From time to time, a Filson staff member will share some of his or her favorite things about the society's collections.  Today, Special Collections Intern Jonathon Free writes about his favorite subject heading from the card catalog.

Sailors -- Relations with women
  When a collection is being processed in the Special Collections department, one of the last steps is to create cards for the card catalog.  The ultimate goal is to use the Library of Congress's guidelines for cataloging to create a number of subject cards that accurately represent the collection and that will help guide researchers to information they may find useful.  Constructing a proper collection of catalog cards is often one of the most challenging and enjoyable parts of processing a collection.
The S.I.M. Major papers presented an especially interesting challenge.  The collection, which consists primarily of personal correspondence from Major's time in the U.S. Navy, revealed a multifaceted and extremely interesting life.  By surveying the collection, one comes to the conclusion that Major was a smart, brave, sophisticated, and especially talented man.  He served his country during three wars (the Spanish-American War, Philippine-American War, and as the naval attache to the U.S. embassy in France at the outset of World War I), and held the important position of chief of railroad operations during the U.S. occupation of Nicaragua from 1912-1913.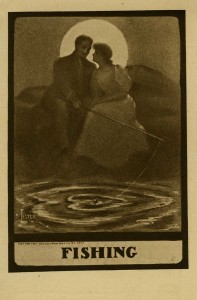 Because of the nature of the correspondence, however, one aspect of Major's personality that stands out is how popular he was with his peers.  And naturally, as a tall, handsome, and successful naval officer, he was also quite popular with the opposite sex.  The collection contains an extraordinarily high number of love letters to Major from women all over the world.
The sheer volume of the correspondence of this sort made it a subject that was impossible to ignore, but a suitable Library of Congress-approved heading proved hard to decide on.  Romance seemed to be not quite right, and Promiscuity implied certain activity that could not be confirmed.  Finally, after much discussion among the staff, we decided that Sailors -- Relations with women carried the perfect connotation to describe this one aspect of a collection rich with interesting material regardingthe romantic life of this Kentucky Cassanova. Major did eventually settle down. He retired from the Navy in 1924 and married Agnes Willson in 1932. They lived in Versailles, Kentucky until his death in 1952.