Exploring Louisville's South End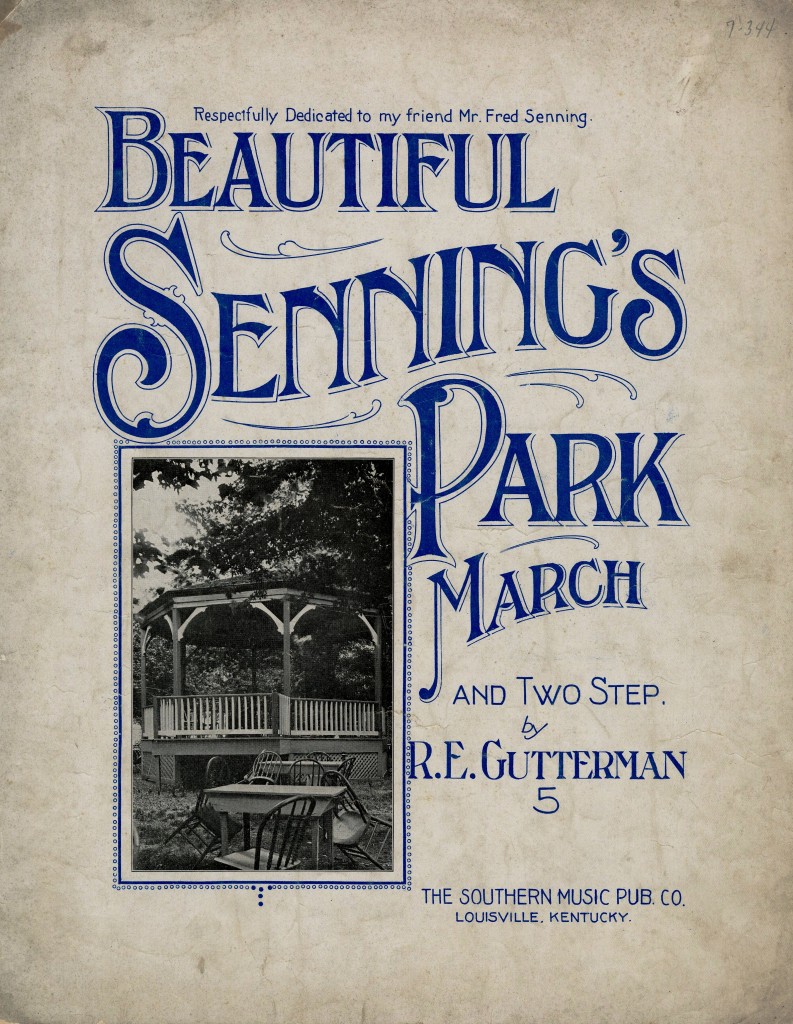 I'm always fascinated by how much the built environment has changed over time.  Businesses and residences that once were integral parts of the landscape have long since been demolished, many leaving little trace of their existence beyond what was captured by a camera lens.  Other structures survive but only as shells of their former selves – rundown eyesores, sagging and dilapidated, targets for forces bent on their demolition or restoration.  My neighborhood in Louisville's south end harbors one such building – a towering structure at the corner of New Cut Road and Kenwood Drive, its white paint peeling and surrounded by yards of chain-link fencing.  Curious to know more about its history, I soon discovered the integral role this building played in the social life of Louisville's south side for over a century.
The city of Louisville was expanding south in the waning years of the nineteenth century.  Sensing opportunity, local entrepreneurs Frederick and Minnie Senning shifted their business operations to the south side.  In 1902 the couple purchased two and a half acres of land at the intersection of New Cut Road and Kenwood Drive, just one block from the streetcar loop that terminated at the entrance to Iroquois Park.  Known as "Senning's Park," the locale soon became a community gathering place, drawing people for dancing, dining, and picnics as well as for political rallies and conventions.  William Senning opened Louisville's first zoo on the park's grounds in 1920.  His exotic menagerie included lions, tigers, bears, monkeys, and alligators.  In the wintertime the Sennings stowed the alligators in the basement of the main building to keep them warm.  The zoo suffered financial difficulty during the Great Depression, but the family managed to keep the park going until Fredrick Senning's death in 1939.
In 1940 B. A. Watson purchased the property.  Watson closed the zoo and remodeled the building, renaming it Colonial Gardens Restaurant and Grill.  Over the course of the next several decades, Colonial Gardens went through a number of iterations.  It was a restaurant and bar.  It was a place local teens gathered for music and dancing.  It hosted big band entertainment: first rock-and-roll and later country music.
Conversing with a neighbor recently, I discovered that Colonial Gardens had been her favorite place to dance when she was young.  More significantly, it also happened to be the place where she met her husband.  He was a talented musician – one of the best bass players in the city – and she met him when he performed at Colonial Gardens.  Those musical strains are a faded memory now.  The last business operating in Colonial Gardens closed its doors in 2003 and the property was abandoned by its owners.
Area residents wonder what the future holds for Colonial Gardens.  The question was hotly debated several years ago when developers expressed interest in demolishing the building to make way for new construction.  Instead, the city of Louisville stepped in to acquire and restore the property.  However, the pace of such projects can be frustrating.  The renovation of Iroquois Park's northern overlook comes to mind.  A project long since slated for completion, the overlook has been under construction for over two years now.  Similarly, Colonial Gardens has been in limbo for almost a decade now, with no visible signs of progress towards restoration.  One can only hope that a building that so long was a community gathering place can soon be repurposed to enjoy new life.