Dreaming of Spring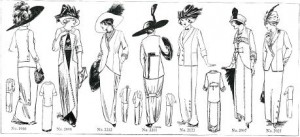 - by Cassie Bratcher
I am sure that I am not alone in dreaming of warmer weather.  So far we have had a bitterly cold, snowy winter.  I am sick of wearing multiple layers just to stay warm, and I can imagine people throughout the years have had similar feelings.  Enough is enough, time to move on . . . come on Spring!  The Filson pamphlet collection has a Vogue Pattern Catalog, for ladies, for the Spring and Summer of 1913. "To the woman of distinction but not unlimited means, Vogue patterns are an open sesame to smartness and individuality in dress."  Or in other words, if you could not afford a dressmaker, Vogue patterns were a great way to be in fashion within budget.
The catalog includes patterns for everything from afternoon gowns to evening gowns, outerwear to underwear; and even some styles for young girls to teenagers.  Page fourteen has an article on a pattern for changing out the sleeves of dresses.  "If your sleeve is old, pluck it out and substitute a new one if you would have even a speaking acquaintance with fashion.  Some seasons this is not easy, but by hook or by crook it should be done."  Extending the life of your older dresses was even more budget friendly, since you would not need as much material as if you were making a whole new dress.
Some of the lovely fashions in this picture could have shown up at the Kentucky Derby of 1913.