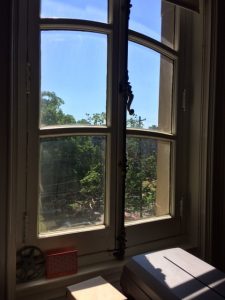 As I sit here at my desk and peer out my window the sun and trees capture my imagination. I can faintly hear the birds chirping, I can see the leaves on the trees out front gently blowing in the wind, and my mind begins to wander. Oh how a long to be outside enjoying mother nature in all her glory. The weather is seasonably warm and the trails are calling my name.  While I am unable to skip work, and go to Jefferson Memorial Forest, I can get my nature fix by exploring a new (to me) photograph collection that may quell my desire to be outdoors.
The Stuart Butler Photograph Collection are images taken and compiled by Stuart Butler of various hiking, camping, and caving expeditions in Kentucky, including Sierra Club hikes and events from 1969-1992.
As with many collections, opening the box for the first time is just as riveting as opening Christmas presents as a child, you never know what surprise will be inside. Today I finally pulled the Butler collection and I immediately jumped back to my childhood, the box was filled with Kodak mini-albums.
The collection contains 64 Kodak mini-albums with approximately 20 photographs per album and a handful of loose prints and negatives. Butler and others traveled throughout the state exploring its natural wonders including:  McConnel's Spring, Blowing Cave, Railroad Cave, Teamer's Cave, Cascade Cave, Gold Mine Cave, Big Foot Cave, Horse Cave, Mammoth Cave, Great Onyx Cave, Green River, the Moonbow site at Cumberland Falls and Moonbow Trail, Floyd Collins Crystal Cave and Collins' House, Salts Cave, Proctor Cave, Bernheim Forest, Natural Bridge, Cave Run, Cedar Creek Cave, Raven Run, Carter Caves, Bat Cave, Laurel Cave, Red River, and Sheltowee Trace: Daniel Boone National Forest Trail just to name a few.
As I began to thumb through the albums it reminded me of all the  trails and fun camping trips my husband, Brendan, and I have gone on since we moved to Kentucky.  We have explored: Mammoth Cave National Park (outside of Bowling Green, KY); My Old Kentucky Home State Park (Bardstown); Cumberland Falls State Resort Park (Whitley County); Natural Bridge State Resort Park (Powell County)—Brendan proposed to me atop Lovers Leap; Red River Gorge; Jefferson Memorial Forest (Jefferson County); and Leslie Morris Park at Fort Hill (Frankfort).
Still on my hiking / camping bucket list are E. P. "Tom" Sawyer State Park (Jefferson County); Fort Boonesborough State Park (Richmond, KY); Breaks Interstate Park (Pike County); and Jenny Wiley State Resort Park (Floyd County) at least in the immediate future. If you haven't explored the great park system here within the Commonwealth, I would strongly encourage you to, we are lucky to have such great green space here in Louisville and throughout the state.
Happy Trails to You!