An Image of Isaac Allen Craig, Union Soldier from Indiana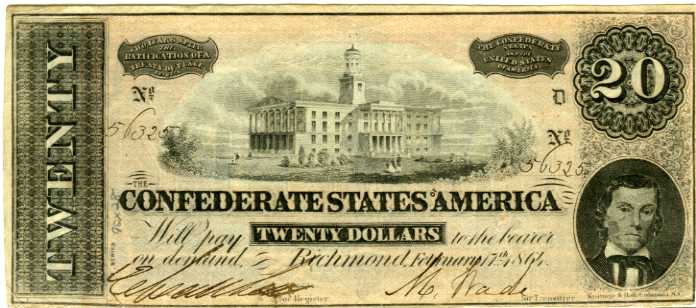 A week ago, I came across a stunning Ambrotype of a man named Isaac Allen Craig.  I became so entranced by his image I had to learn more about him.  Isaac Allen Craig was born in Paoli, Indiana in 1834, but lived in New Albany, Indiana from 1851 until the time of his death in 1917.  I soon discovered that the Filson not only holds a small photograph collection of his, but also his Civil War diary, discharge paper, and a sampling of Confederate currency.  As I dug deeper, Craig's Civil War story began to unfold and I was quickly drawn in.
On 12 September 1861, Craig, then 27 years old, enlisted in the Union Army at Seymour, Indiana and was commissioned as a 1st Lieutenant in Company F of the 50th Indiana Regiment.  By 25 October 1861, the regiment was on the go from Seymour to New Albany, Indiana, the first of many marches.[1]
Craig's regiment guarded the L&N Railroad and was stationed at various posts in Kentucky before marching on to Tennessee and Arkansas.  It was in Arkansas that Craig found himself a part of Steele's Expedition to Camden, 23 March-3 May 1864.[2]  The idea was to take control of certain areas of Arkansas and eventually head toward Texas.  As the regiment moved south from Little Rock, Craig wrote in his diary about camp life, skirmishes, limited rations, and hostile enemies.
18 April 1864, "This has been a beautiful day after a thunder shower we had last night.  At 12 o'clock pickets were skirmishing last night, and today a foraging party that was sent out yesterday met with quite a disaster.  They had gone out some 12 miles and loaded some 190 wagons.  When they turned back they found that the rebels were between them and camp.  The result was the loss of nearly all the wagons and some 200 men."[3] This became known as the Battle of Poison Springs.
28 April 1864:  "Slept well last night on a bed of gravel.  Moved this morning at 6 o'clock.  At 1 o'clock we went into camp, having marched 16 miles...men entirely out of rations...They stand it like fine soldiers.  This is evidently a forced march for some purpose.  History may reveal it…."[4]
It was on 30 April 1864 that Craig and his regiment would fight their hardest at the Battle of Jenkins' Ferry.  This was the final battle of the Camden Expedition.  Craig's regiment helped cover the Union Army's retreat.  It was an extremely bloody battle with many casualties including a general officer from each side.
30 April 1864: "Rained terrible during the night.  Did not get across the river.  At 6 o'clock the rebs attacked our picket line.  It was soon evident that they were determined to force a fight when our brigade and the 3rd were moved to the rear to take their position.  This was soon done.  At 7 ½ o'clock the fight began.  They were superior to us in number and seemed fully determined to drive us back, but our fire was too hot; we drove them more than a mile.  We then withdrew and crossed the river.  Our regt. lost about one hundred killed and wounded.  She behaved herself noblely.  The fight ended at 1 P.M. It was decidedly the hardest fought battle that we were ever in.  From the time it began until it ended was the most incessant fire of musketry that was ever heard for the number of troops...The battle field was a marshy woods, water nearly all over the ground.  Went into camp at sundown 6 miles from battleground.  Our regiment captured 3 colors--they were all captured by my company.  The whole loss on our side was about 500.  The rebels acknowledge a loss of 1500 (hundred) killed and wounded."[5]  (Final entry in diary)
Craig made it out of the Battle of Jenkins' Ferry and headed back to Little Rock; he would eventually muster out of the Union Army with the rank of Captain on 5 January 1865.  Craig ended up back in New Albany, Indiana, married Mildred Ann Ellis, and had four children.  Craig became one of the leading building contractors in New Albany.  Captain Isaac Allen Craig died 8 April 1917 at the age of eighty-three.
---
[1] Ann Turner, Guide to Indiana Civil War Manuscripts (Indiana Civil War Centennial Commission, 1965), 163.
[2] David McCormick, Indiana Battle Flags and a Record of Indiana Organization in the Mexican, Civil, and Spanish-American Wars, ed. Frank Strayer (Indianapolis: The Indiana Battle Flag Commission 1929), 310.
[3] Isaac A. Craig Diary, Isaac A. Craig Papers (Mss. A C886), Special Collections Department, The Filson Historical Society, Louisville, KY [hereinafter, Craig Papers, FHS.]
[4] Isaac A. Craig Diary, Craig Papers, FHS.
[5] Isaac A. Craig Diary, Craig Papers, FHS.