One of my favorite paintings in the Ferguson Mansion hangs in the stairwell on the way to the basement level. It is a portrait of a certain Mrs. Denton Whipps, painted by a mysterious unknown artist, and generously donated by Mrs. Walter Osborne.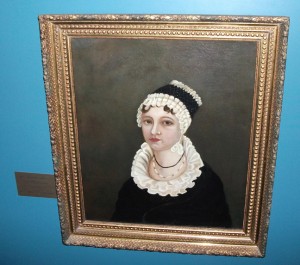 This painting utilizes a severe palette of white, black and gray. Mrs. Whipps' luminous skin vividly contrasts with her crimson lips and brown eyes, as well as the black beads of her necklace. Similarly, the white ruffles surrounding her neck stand out strongly against Mrs. Whipps' black dress and provide symmetry to the white and black ruffles of her headpiece. The strong nose and determined mouth signify that Mrs. Whipps is not to be trifled with. At the same time, her eyes hold a reassuring kindness.
Both this portrait and others in The Filson Collection bring to mind the contemporary artist Anne Faith Nicholls. Nicholls employs a striking use of folk art imagery and animal totems, and there is an environmental edge to her work as well. Nicholls characterizes herself as a Neo-folk artist, which has been defined as a recent outgrowth of folk art influenced by early colonial American and European folk art paintings and Surrealism. This movement is considered to be a part of both the high-low art aesthetic and the outsider art perspective.
"Hold Back Against the Naysayers" by Nicholls depicts a seated woman with Gothic hair, a thundercloud above raining down on her head. The details of her clothing, such as her riding boots and corseted dress, as well as her exaggeratedly pale, heart-shaped face, evoke an earlier era. Looking out at the viewer with wide eyes, she resolutely grasps the collar of a flame-breathing dog. Winged hands point to her in accusation. The palette of this painting echoes that of the portrait of Mrs. Whipps, with luminous white utilized to emphasize the woman's face. The oval that frames the woman and her frenetic dog in lace-like curves is also white. Faux-wood panels in shades of gray radiate from the framed scene like dreary sunrays.
Nicholls seemingly depicts this woman's twin in her painting "Catch or Release" (click http://www.annefaithnicholls.com/#goto=painting-portfolio&viewimage=22 to view). Here, the woman holds a beached whale distinctive for its small scale. The dank landscape, which includes felled trees, a burning house and a weeping cloud, echoes the whale's distress. Plants float in the lower corners of the picture like seaweed. The painting also features alternating panels of gray and a curved white oval, accentuating the woman in her grief.
The environmental concerns and dark emotions that Nicholls depicts in her work are a world away from the serenity of Mrs. Denton Whipps. But the palette and style of portraits like the ones that hang in The Filson have clear repercussions on present-day artists, even as these portraits continue to provoke enjoyment from Filson visitors.