All the World's a Stage: Entertainment in Louisville, 1778-present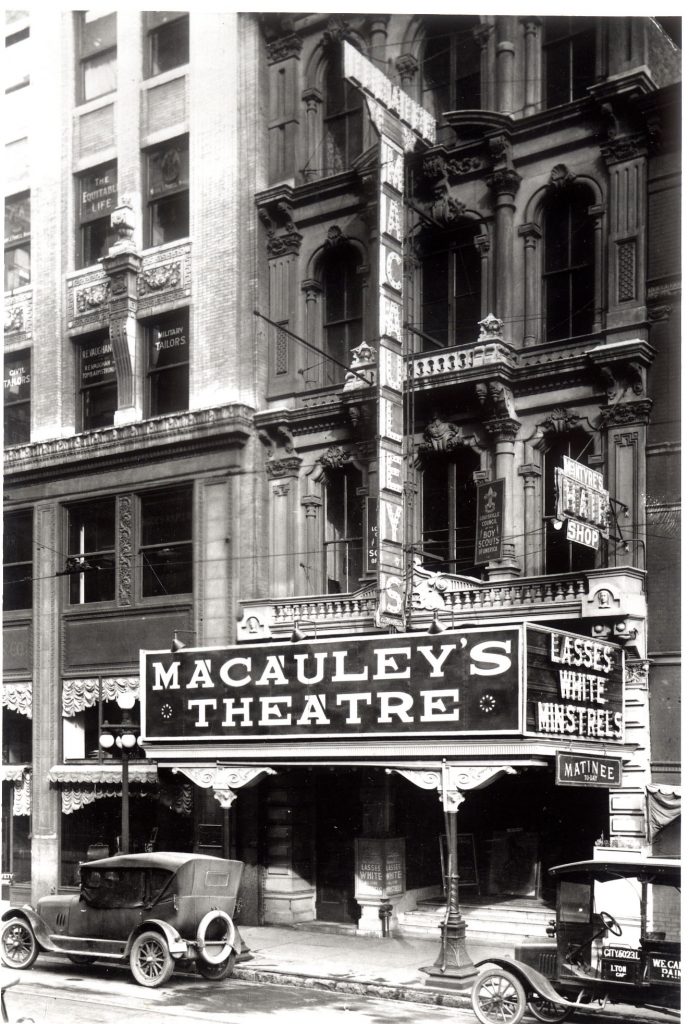 It's December again, which means it's time for the rollout of 2017's holiday blockbusters.  I don't make it to the movies very often but I will be going to see Star Wars: The Last Jedi.  Pixar recently released its latest offering, Coco, which also looks interesting.  I doubt I'll see more than those two.  I'm rather critical of movies these days and there are some truly terrible looking ones being released this holiday season.  At the top of that list might have to be Jumanji: Welcome to the Jungle, which looks like a money grab pinning its hopes on nostalgia for the original.  Of course, it might be so awful that it's actually entertaining (think Sharknado movies).
People of previous generations also enjoyed being entertained.  In the days before film and Hollywood blockbusters, people went to live-action performances.  Louisville became one of Kentucky's leading theater centers in the decades following its founding in 1778.  About the year 1808, according to Louisville's 1832 city directory, a company of citizens formed a "dramatic institution" and erected the town's first theater building on Jefferson Street.  This building would be the first of many.
The Filson's collection documents the popularity of theater in Louisville, particularly during the 19th century.  The Filson holds a large collection of theater programs, preserving performances of both local amateurs and revered stars (read more HERE).  In addition to its collection of programs, the Filson also has theater broadsides that advertise performances in Louisville and elsewhere in the state.  I recently worked with a collection of broadsides that advertised performances at 14 different venues around Louisville.
The collection I worked with contained several broadsides for performances at a theater called Macauley's.  Although the building has long since been demolished, in its heyday Macauley's was one of America's premier playhouses.  It eclipsed the fame and prestige of all other Louisville theaters of its time.  Macauley's opened in 1873 on Walnut Street and welcomed virtually all of the era's famous performers.
The "moving pictures" originally shown as novelties at theaters in the late 1890s doomed venues such as Macauley's.  Stage plays and vaudeville performances succumbed to films, and subsequent theater construction reflected shifting public taste.  Macauley's was one of the victims of changing times.  The theater was demolished in 1925 to make way for the Starks Building.
Subsequent generations have sought out a large part of their entertainment at the movie theaters.  Louisville has more movie theater venues these days, despite still having a wonderful performing arts scene.  For many families going to see a movie together has become a holiday tradition.  Do you plan to go to any movies with family or friends this season?  What are you hoping to see?